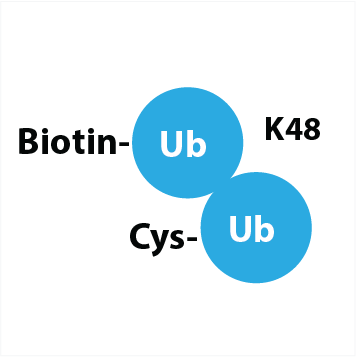 (Biotin-Ahx-Ub)-(Cys-Ahx-Ub) K48 linked
a native K48 linked di-ubiquitin, modified with biotin on the N-terminus of the distal Ub and cysteine on the N-terminus of the proximal Ub
Additional information
| | |
| --- | --- |
| Weight | 0.005 kg |
| Applications | |
| target | |
| source | |
| shipping | |
| purity | |
| molecular weight | |
| storage | Powder at −20°C; solution at −80°C. Please avoid multiple freeze/thaw cycles. |
| sample preparation | For detailed sample preparation see product sheet. |
| regulatory statement | |
| aliquot size | |
Description
Additional information
references
Description
Background. UbiQ-119 is a native K48 linked di-ubiquitin which is modified with a biotin tag on the distal Ub and an N-terminal cysteine on the proximal Ub.* The 6-aminohexanoic acid (Ahx) linker is used to create extra space for efficient access of biotin binding entities and Cys reactive reagents. The biotin can be used as conjugation site for labeled streptavidin or anti-biotin antibodies. The Cys residue can be modified by two methods:
1) by thiol alkylation with thiol-reactive moieties (such as maleimides and iodoacetamides)
2) by native chemical ligation using activated esters (such as thioesters and NHS esters).
Ligation via method 2 retains the thiol group of the Cys residue which could then be used for attaching another label if desired. Overall, UbiQ-119 is designed to allow for the creation of various K48 diUb based conjugates which could serve for example as (TR-FRET/FRET) DUB assay reagents.
Additional information
| | |
| --- | --- |
| Weight | 0.005 kg |
| Applications | |
| target | |
| source | |
| shipping | |
| purity | |
| molecular weight | |
| storage | Powder at −20°C; solution at −80°C. Please avoid multiple freeze/thaw cycles. |
| sample preparation | For detailed sample preparation see product sheet. |
| regulatory statement | |
| aliquot size | |
El Oualid, F., et al. Chemical Synthesis of Ubiquitin, Ubiquitin-Based Probes, and Diubiquitin. Angewandte Chemie Int. Ed. 49, 10149-10153 (2010).
http://www.ncbi.nlm.nih.gov/pubmed/21117055
Faesen, A.C., et al. The Differential Modulation of USP Activity by Internal Regulatory Domains, Interactors and Eight Ubiquitin Chain Types. Chem. Biol. 18, 1550-1561 (2011).
http://www.ncbi.nlm.nih.gov/pubmed/22195557
Dikic, I., et al. Ubiquitin-binding domains – from structures to functions. Nat. Rev. Mol. Cell. Biol. 10, 659-671 (2010).
http://www.ncbi.nlm.nih.gov/pubmed/19773779
Licchesi, J.D., et al. An ankyrin-repeat ubiquitin-binding domain determines TRABID's specificity for atypical ubiquitin chains. Nat. Struct. Mol. Biol. 19, 62-71 (2012).
http://www.ncbi.nlm.nih.gov/pubmed/22157957