The labeling of a protein with ubiquitin directs a wide range of biological processes. From protein breakdown by the proteasome, cellular localization of proteins to transcriptional activity and DNA repair. Defects in these regulation mechanisms cause cancer and many other diseases.
Expectations for the ubiquitin field in the drug discovery market are running high with the expectation that the Ubiquitin field is as rich in drug targets as the phosphorylation system. 
The successes of the proteasome proteasome inhibitor Velcade® (bortezomib), the first-to-market ubiquitin proteasome system (UPS) modulator ($3 billion USD revenue in 2014), the growth of Kyprolis®(carfilzomib) which was launched in 2012, and the recently submitted drug application of ixazomib furthermore reveal the potential of the UPS as a pharmacological target area. As a result research into the Ubiquitin field is expanding fast and is starting to yield drug targets for specific indications.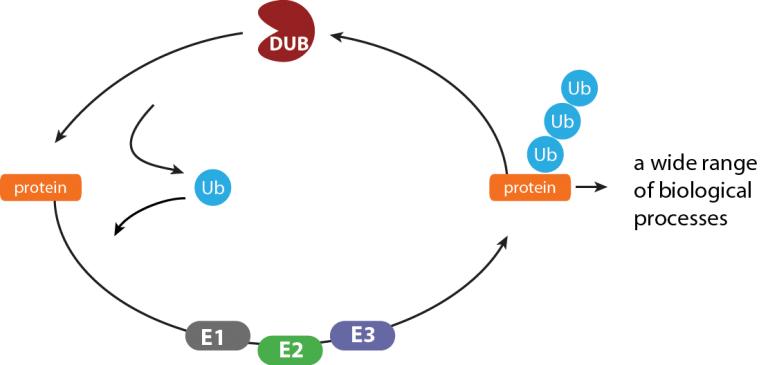 With drug targets becoming available, there is an increasing demand for both research tools and reagents for high-throughput screening assays.To facilitate this development, access to well defined ubiquitinated peptides and conjugates is of paramount importance. UbiQ's chemical ligation technology gives access to site-selective ubiquitinated peptides of native conformation, using automated solid phase peptide synthesis. 
As automated phosphopeptide synthesis in the past decade has revolutionised kinase targeted research and pharmaceutical efforts alike, we believe that our technology will have a similar impact in the field of Ubiquitin protein modification and drug discovery.