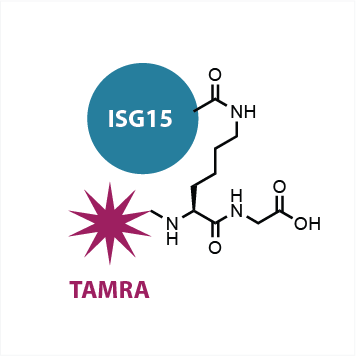 a fluorescence polarization assay reagent for deISGylating enzymes, based on a TAMRA modified Lys-Gly sequence, linked to mouse ISG15
Description
Additional information
references
Description
UbiQ-073 is a fluorescence polarization assay reagent for deISGylating enzymes which is based on a 5-carboxytetramethylrhodamine (TAMRA, exc 550 nm, emi 590 nm) modified Lys-Gly sequence that is linked to (mouse) ISG15 (Interferon stimulated gene 15) via a native isopeptide bond with the lysine side-chain. ISG15 is a ubiquitin-like protein whose expression is increased following stimulation with type 1 Interferons.
A typical substrate concentration is 100 nM. Effective concentrations of deISGylating enzymes depends on specific assay conditions and method of detection.
UbiQ-073 is effectively processed by the known deISGylating enzyme USP18.
Tirat, A., et al. Synthesis and characterization of fluorescent ubiquitin derivatives as highly sensitive substrates for the deubiquitinating enzymes UCH-L3 and USP-2. Anal. Biochem. 343, 244-255 (2005).
http://www.ncbi.nlm.nih.gov/pubmed/15963938
Huang, X. & Aulabaugh A. Application of fluorescence polarization in HTS assays. Methods in Molecular Biology 565, 127-143 (2009).
http://www.ncbi.nlm.nih.gov/pubmed/19551360
Levine, L.M., et al. Measurement of specific protease activity utilizing fluorescence polarization. Anal. Biochem. 247, 83-88 (1997).
http://www.ncbi.nlm.nih.gov/pubmed/9126375
Geurink, P.P., et al. A general chemical ligation approach towards isopeptide-linked ubiquitin and ubiquitin-like assay reagents. ChemBiochem 13, 293-297 (2012).
http://www.ncbi.nlm.nih.gov/pubmed/22213387
Basters, A., et al. Molecular characterization of ubiquitin-specific protease 18 reveals substrate specificity for interferon-stimulated gene 15. Febs. J. 281, 1918-1928 (2014).
http://www.ncbi.nlm.nih.gov/pubmed/24533902