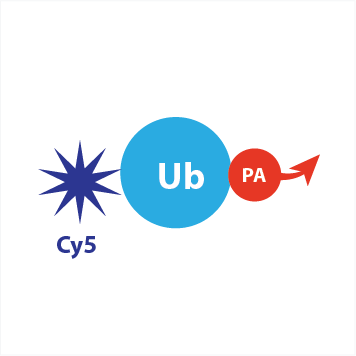 a potent and specific inhibitor of deubiquitylating enzymes (DUBs), labeled with a Cy5 dye on the N-terminus
Description
Additional information
references
Description
UbiQ-072 (Cy5-Ub-PA) is a potent and specific inhibitor of deubiquitylating enzymes (DUBs). This activity probe is labeled on the N-terminus with a Cy5 dye (Cy5, exc 625-650 nm, emi 670 nm) and can be used for activity profiling experiments and determining DUB inhibitor specificity.
It has three unique capabilities:
it forms a covalent linkage with (the active site Cys residue of) a DUB that can be cleaved by acid treatment (5% aq. TFA), allowing for proteomic analyses;
it targets all three major DUB families: UCH, USP and OTU;
the TAMRA label allows detection of DUB labeling by direct in-gel fluorescence. This is a less time-consuming and more sensitive read-out than western-blotting
Finally, cross-reactivity of antibodies can lead to background labeling, something that is not observed with Cy5-Ub-PA (UbiQ-072).
de Jong et al.
de Jong, A., et al. Ubiquitin-based probes prepared by total synthesis to profile the activity of deubiquitinating enzymes. ChemBiochem 13, 2251-2258 (2012).
http://www.ncbi.nlm.nih.gov/pubmed/23011887
Altun et al.
Altun, M., et al. Activity-based chemical proteomics accelerates inhibitor development for deubiquitylating enzymes. Chem. Biol. 18, 1401-1412 (2011).
http://www.ncbi.nlm.nih.gov/pubmed/22118674
Ekkebus et al.
Ekkebus, R., et al. On terminal alkynes that can react with active-site cysteine nucleophiles in proteases. J. Am. Chem. Soc. 135, 2867-2870 (2013).
http://www.ncbi.nlm.nih.gov/pubmed/23387960
Sommer et al.
Sommer, S., et al. Covalent inhibition of SUMO and ubiquitin-specific cysteine proteases by an in situ thiol-alkyne addition. Bioorg. Med. Chem. 21, 2511-2517 (2013).
http://www.ncbi.nlm.nih.gov/pubmed/23535560