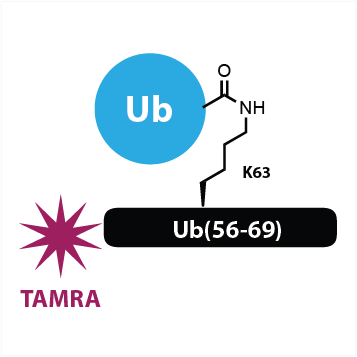 Ub-Ub(56-69)-FP K63 linked
a class II ubiquitinated peptide fluorescence polarization assay reagent based on the peptide sequence 56 – 69 of ubiquitin
Additional information
| | |
| --- | --- |
| Weight | 0.005 kg |
| aliquot size | |
| Applications | |
| target | |
| source | |
| shipping | |
| purity | |
| molecular weight | |
| storage | Store powder and DMSO stock at −20°C, aqueous stocks at −80°C. Protect from light. Please avoid multiple freeze/thaw cycles. |
| sample preparation | Prepare a 2 mM stock in DMSO (21 mg/mL). Dilute the 2 mM DMSO stock 20x in milliQ affording a 100 μM stock which can be aliquoted and stored. For assays this 100 μM stock can be diluted for example 1000x in buffer affording a final assay solution of 100 nM, the DMSO concentration during the assay is now 0.01 vol%. The concentration can be verified by comparing the fluorescence intensity with that of a known concentration of TAMRA. |
| regulatory statement | |
Description
Additional information
references
Description
UbiQ-049 is a class II ubiquitinated peptide fluorescence polarization assay reagent based on the peptide sequence 56 – 69 of ubiquitin.
The peptide is modified on the N-terminus with a 5-carboxytetramethylrhodamine and conjugated at Lys63 to Ub via a native isopeptide bond.
See reference 5 in the product sheet (open access) for full experimental and analytical details.
Additional information
| | |
| --- | --- |
| Weight | 0.005 kg |
| aliquot size | |
| Applications | |
| target | |
| source | |
| shipping | |
| purity | |
| molecular weight | |
| storage | Store powder and DMSO stock at −20°C, aqueous stocks at −80°C. Protect from light. Please avoid multiple freeze/thaw cycles. |
| sample preparation | Prepare a 2 mM stock in DMSO (21 mg/mL). Dilute the 2 mM DMSO stock 20x in milliQ affording a 100 μM stock which can be aliquoted and stored. For assays this 100 μM stock can be diluted for example 1000x in buffer affording a final assay solution of 100 nM, the DMSO concentration during the assay is now 0.01 vol%. The concentration can be verified by comparing the fluorescence intensity with that of a known concentration of TAMRA. |
| regulatory statement | |
Tirat, A., et al. Synthesis and characterization of fluorescent ubiquitin derivatives as highly sensitive substrates for the deubiquitinating enzymes UCH-L3 and USP-2. Anal. Biochem. 343, 244-255 (2005).
http://www.ncbi.nlm.nih.gov/pubmed/15963938
Huang, X. & Aulabaugh A. Application of fluorescence polarization in HTS assays. Methods in Molecular Biology 565, 127-143 (2009).
http://www.ncbi.nlm.nih.gov/pubmed/19551360
Levine, L.M., et al. Measurement of specific protease activity utilizing fluorescence polarization. Anal. Biochem. 247, 83-88 (1997).
http://www.ncbi.nlm.nih.gov/pubmed/9126375
Geurink, P.P., et al. A general chemical ligation approach towards isopeptide-linked ubiquitin and ubiquitin-like assay reagents. ChemBiochem 13, 293-297 (2012).
http://www.ncbi.nlm.nih.gov/pubmed/22213387
Faesen, A.C., et al. The Differential Modulation of USP Activity by Internal Regulatory Domains, Interactors and Eight Ubiquitin Chain Types. Chem. Biol. 18, 1550-1561 (2011).
http://www.ncbi.nlm.nih.gov/pubmed/22195557