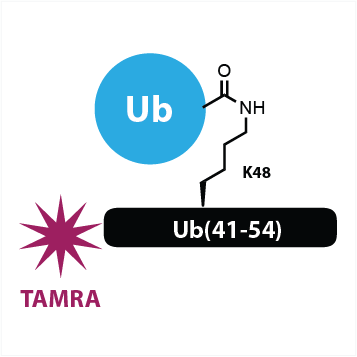 Ub-Ub(41-54)-FP K48 linked
a class II ubiquitinated peptide fluorescence polarization DUB activity assay reagent based on the peptide sequence 41 – 54 of ubiquitin
Description
Additional information
references
Description
UbiQ-048 is a class II ubiquitinated peptide fluorescence polarization assay reagent based on the peptide sequence 41 – 54 of ubiquitin.
The peptide is modified on the N-terminus with a 5-carboxytetramethylrhodamine and conjugated at Lys48 to Ub via a native isopeptide bond.
See reference 5 in the product sheet (open access) for full experimental and analytical details.
Tirat, A., et al. Synthesis and characterization of fluorescent ubiquitin derivatives as highly sensitive substrates for the deubiquitinating enzymes UCH-L3 and USP-2. Anal. Biochem. 343, 244-255 (2005).
http://www.ncbi.nlm.nih.gov/pubmed/15963938
Huang, X. & Aulabaugh A. Application of fluorescence polarization in HTS assays. Methods in Molecular Biology 565, 127-143 (2009).
http://www.ncbi.nlm.nih.gov/pubmed/19551360
Levine, L.M., et al. Measurement of specific protease activity utilizing fluorescence polarization. Anal. Biochem. 247, 83-88 (1997).
http://www.ncbi.nlm.nih.gov/pubmed/9126375
Geurink, P.P., et al. A general chemical ligation approach towards isopeptide-linked ubiquitin and ubiquitin-like assay reagents. ChemBiochem 13, 293-297 (2012).
http://www.ncbi.nlm.nih.gov/pubmed/22213387
Faesen, A.C., et al. The Differential Modulation of USP Activity by Internal Regulatory Domains, Interactors and Eight Ubiquitin Chain Types. Chem. Biol. 18, 1550-1561 (2011).
http://www.ncbi.nlm.nih.gov/pubmed/22195557