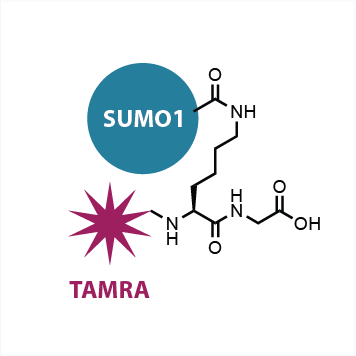 a fluorescence polarization assay reagent for de-SUMOylating enzyme, based on a 5-carboxytetramethylrhodamine (TAMRA) modified Lys-Gly sequence that is linked to (6His tagged) SUMO-1 via a native isopeptide bond with the lysine side-chain
Description
Additional information
references
Description
SUMO1-FP (UbiQ-020) is a fluorescence polarization assay reagent for de-SUMOylating enzymes which is based on a 5-carboxytetramethylrhodamine (TAMRA, exc 550 nm, emi 590 nm) modified Lys-Gly sequence that is linked to (6His tagged) SUMO-1 via a native isopeptide bond with the lysine side-chain.
A typical substrate concentration is 100 nM. Effective concentrations of deSUMOylating enzymes can range from 0.01-10 nM but depend on specific assay conditions and method of detection.
UbiQ-020 is effectively processed by SENP1.