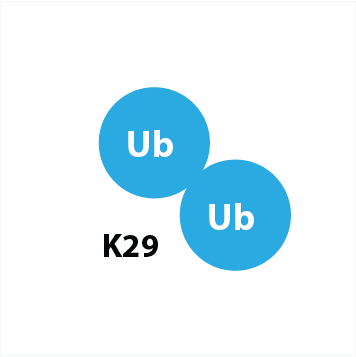 Additional information
| | |
| --- | --- |
| Weight | 0.025 kg |
| aliquot size | |
| Applications | |
| target | |
| source | |
| shipping | |
| purity | |
| molecular weight | |
| storage | Powder at −20°C; solution at −80°C. Please avoid multiple freeze/thaw cycles. |
| sample preparation | For detailed sample preparation see product sheet. |
| regulatory statement | |
Description
Additional information
references
Description
UbiQ-016 is native K29 linked di-ubiquitin which can be used as a substrate for proteases that cleave the isopeptide linkage between two ubiquitin proteins.
It can also be used to investigate mechanism of binding and recognition by proteins that contain ubiquitin-associated domains or ubiquitin-interacting motifs (UIMs).
This product is formed by chemical ligation.
Additional information
| | |
| --- | --- |
| Weight | 0.025 kg |
| aliquot size | |
| Applications | |
| target | |
| source | |
| shipping | |
| purity | |
| molecular weight | |
| storage | Powder at −20°C; solution at −80°C. Please avoid multiple freeze/thaw cycles. |
| sample preparation | For detailed sample preparation see product sheet. |
| regulatory statement | |
El Oualid, F., et al. Chemical Synthesis of Ubiquitin, Ubiquitin-Based Probes, and Diubiquitin. Angewandte Chemie Int. Ed. 49, 10149-10153 (2010).
http://www.ncbi.nlm.nih.gov/pubmed/21117055
Faesen, A.C., et al. The Differential Modulation of USP Activity by Internal Regulatory Domains, Interactors and Eight Ubiquitin Chain Types. Chem. Biol. 18, 1550-1561 (2011).
http://www.ncbi.nlm.nih.gov/pubmed/22195557
Licchesi, J.D., et al. An ankyrin-repeat ubiquitin-binding domain determines TRABID's specificity for atypical ubiquitin chains. Nat. Struct. Mol. Biol. 19, 62-71 (2012).
http://www.ncbi.nlm.nih.gov/pubmed/22157957
Dikic, I., et al. Ubiquitin-binding domains – from structures to functions. Nat. Rev. Mol. Cell. Biol. 10, 659-671 (2010).
http://www.ncbi.nlm.nih.gov/pubmed/19773779