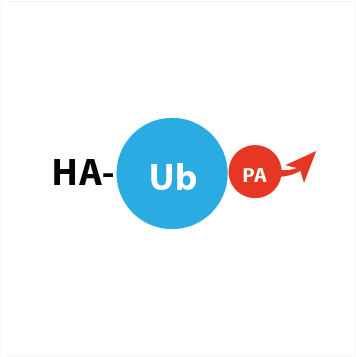 a potent and specific inhibitor of deubiquitylating enzymes (DUBs) containing the propargylamide (PA) warhead
Description
Additional information
references
Description
UbiQ-078 (HA-Ahx-Ahx-Ub-PA) is a potent and specific inhibitor of deubiquitylating enzymes (DUBs) containing the propargylamide (PA) as a newly discovered DUB activity warhead.
It can be used for activity profiling experiments and determining DUB inhibitor specificity, using two unique capabilities of the PA warhead:
1. it forms a covalent linkage with (the active site Cys residue of) a DUB that can be cleaved by acid treatment (5% aq. TFA), allowing for proteomic analyses.
2. it targets all three major DUB families: UCH, USP and OTU.
UbiQ-078 is N-terminally tagged with the HA peptide sequence (YPYDVPDYA) derived from the influenza hemagglutinin protein and allows for the sensitive identification or purification of DUBs by anti-HA antibodies and/or anti-HA-agarose.
The HA tag is separated from the Ubiquitin N-terminus by two aminohexanoic acid (Ahx) linkers for efficient recognition of the tag.